Exciton kinetics in colloidal quantum dot (CQD) PbS thin films used for the fabrication of quantum dot solar cells were also studied using PCR [1,2]. Through the reconstruction of de-excitation lifetime spectra over broad ranges of temperatures, these studies resulted in the identification of radiative and non-radiative exciton decay pathways.
Excited state manifold of PbS exciton in the singlet−triplet energy range. Photon emission: sine wave arrows indicate radiative emission processes. Phonon emission: sawtooth arrows indicate nonradiative decay processes in the presence of photocarrier exciton traps [1].
To improve understanding of exciton transport and decay pathways that limit current CQD solar conversion efficiency, a full theoretical model of exciton transport processes across the effective Schottky barrier of PbS CQDs has been developed. Current-voltage curves in a wide range of temperatures (100 – 300K) have been used to determine the operating excitonic and dissociated carrier hopping transport [3] and exciton-interface  interaction mechanisms [4], in order to explain observed non-Shockley current-voltage characteristics of PbS CQD solar cells [5].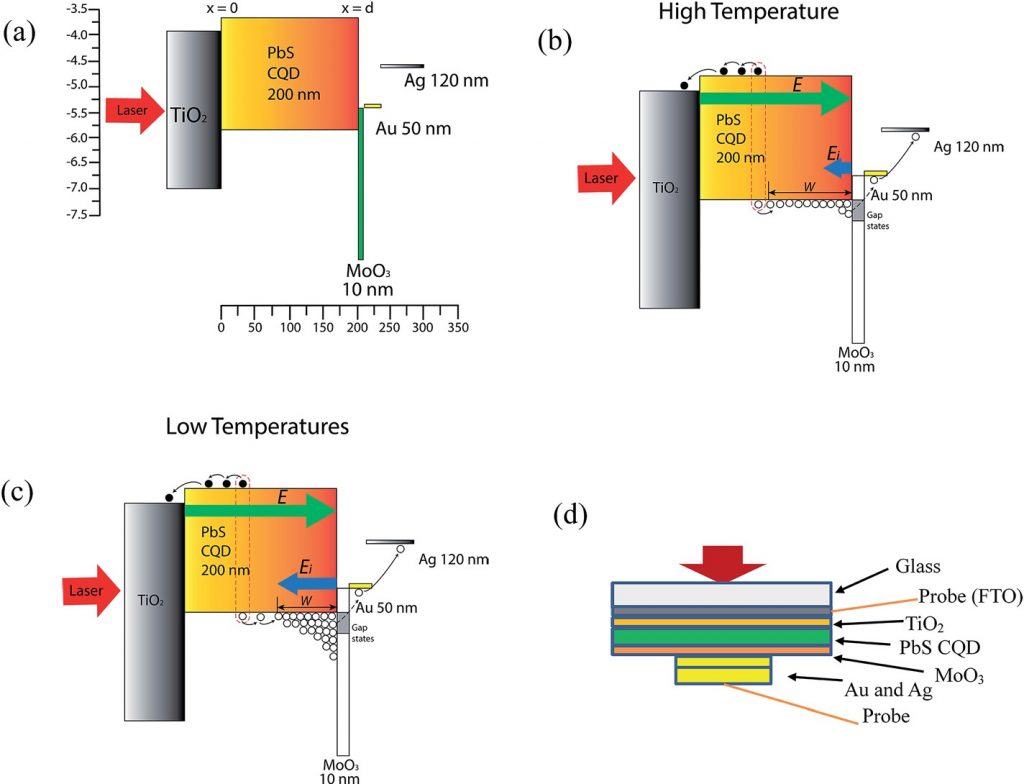 (a) CQD solar cell band-energy-equivalent structure. (b) Room temperature and (c) low temperature hole accumulation at the PbS CQD–MoO3 interface, also showing transport across the junction. (d) Solar cell architecture from top to bottom: laser beam, glass/FTO (back contact)/TiO2/PbS CQD/MoO3/Au/Ag (front contact). [4]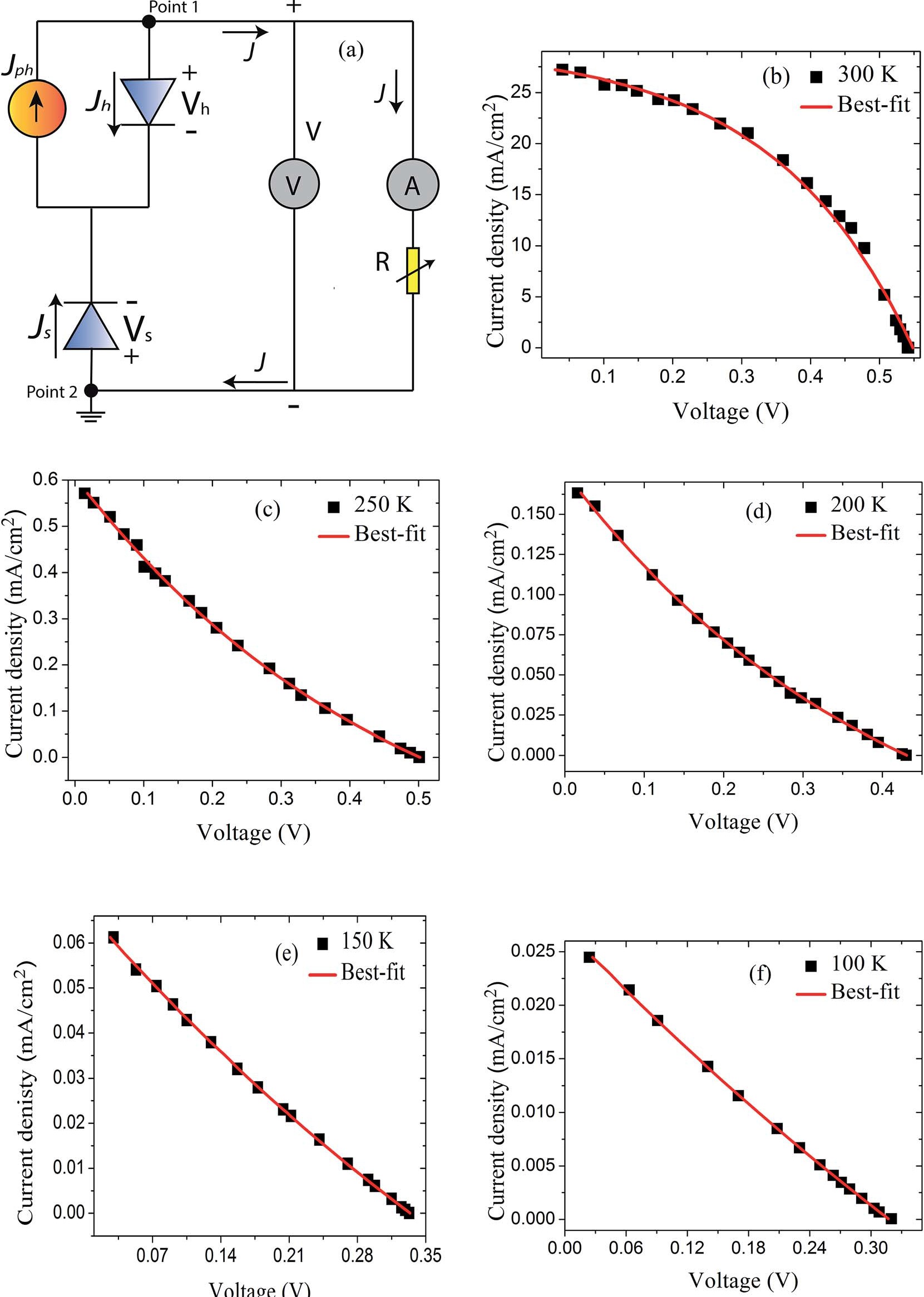 (a) Experimental set-up for J–V measurement as well as the two-diode electric circuit model of the TiO2/PbS QD/MoO3/Au solar cell. (b)–(f) Current–voltage characteristic curves of solar cell architecture: glass/FTO/TiO2/PbS QD/MoO3/Au/Ag obtained at 100 K, 150 K, 200 K, 250 K and 300 K. Continuous lines: best fits to data using eqn (35) in Ref. [4].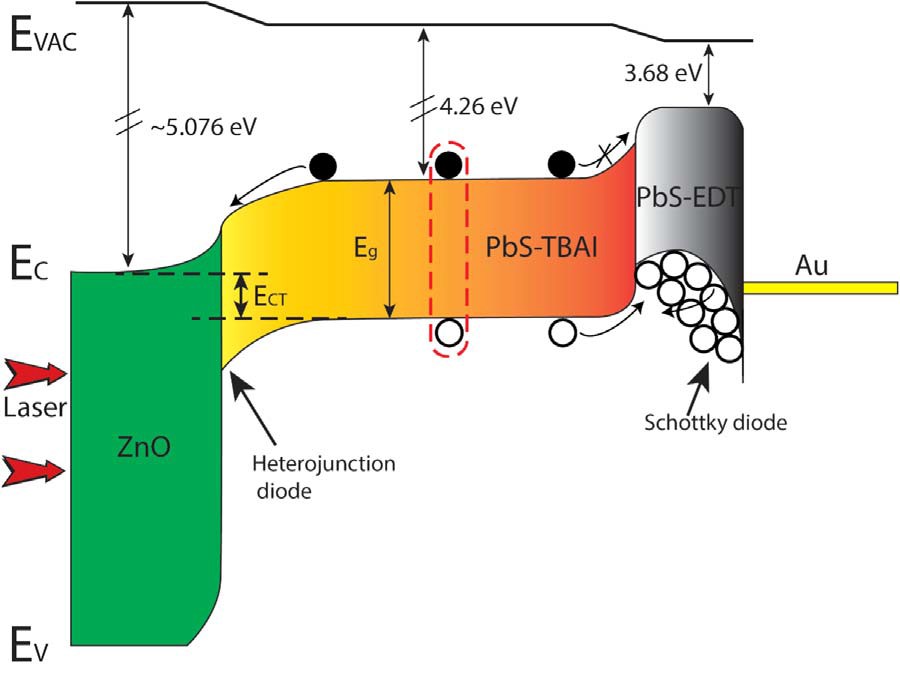 Equivalent electric circuit of a double-diode model as shown in the Figure above, consisting of a hetero- junction diode between ZnO and PbS-TBAI layers and a Schottky diode between PbS-EDT and Au [5].
References II.2
[1] Wang J, Mandelis A, Melnikov A, Hoogland S, Sargent EH. Exciton lifetime broadening and distribution profiles of PbS colloidal quantum dot thin films using frequency- and temperature-scanned photocarrier radiometry, J. Phys. Chem. C 2013; 117, 23333.
[2]  Wang J, Mandelis A. Variational reconstruction of exciton multipath deexcitation lifetime spectra in coupled PbS colloidal quantum dots, J. Phys. Chem. C 2014; 118 (33), 19484.
[3]  Hu L, Yang Z, Mandelis A, Melnikov A, Lan X, Walters G, Hoogland S, and Sargent E. H., Quantitative Analysis of Trap-State-Mediated Exciton Transport in Perovskite Shelled PbS Quantum Dot Thin films Using Photocarrier Diffusion-Wave Non-Destructive Evaluation and Imaging, J. Phys. Chem. C 120, 14416 – 14427 (June 22, 2016). DOI: 10.1021/acs.jpcc.6b04468
[4]   Mandelis A, Hu L, and Wang J, Quantitative Measurements of Exciton Hopping Transport Properties in Depleted-Heterojunction PbS Colloidal Quantum Dot Solar Cells from Temperature Dependent Current-Voltage Characteristics, Royal Soc. Chem. Advances  6, 93180–93194 (2016).
[5] Hu L, Mandelis A, Lan X, Melnikov A, Hoogland S, and Sargent E. H., Imbalanced Hole Mobility and Schottky Junction Induced Anomalous Current-Voltage Characteristics of Excitonic PbS Colloidal Quantum Dot Solar Cells, Solar Energy Materials Solar Cells 155, 155-165 (2016) http://dx.doi.org/10.1016/j.solmat.2016.06.012